Defensive: The Enemy of Intimacy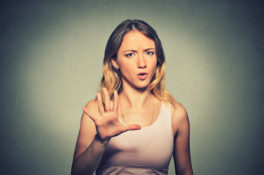 We all know it is important to apologize when we have hurt someone we care about. So why is it so incredibly difficult sometimes?
Last Wednesday night, Greg and I had dinner in Charles Village then went over to the Hopkins campus for an event that we were a part of. About two minutes before the event started I realized I had left my phone in the bathroom of the restaurant.
After the event, we went back but the phone was long gone. I was disappointed and angry. Mostly at myself, but also at the faceless stranger that took my phone.
Greg was kind and understanding and even worked to find me a replacement quickly. But I was angry at him for how he was going about getting me a new phone. So I acted ungrateful toward him and took out much of my frustration on him.
At a certain point, he told me that he didn't like how I was treating him and that he felt hurt by my words and attitude.
Although I knew I was responsible for causing that hurt, I kept focusing on the ways I wished he had handled the situation differently. Harriet Lerner, Author of Why Won't You Apologize? Healing Big Betrayals and Everyday Hurts, identifies my response as "defensiveness." She explains that when we are defensive we won't necessarily be aware that we feel defensive. One clue that we are feeling defensive is that we start to hear from the other person only those things that we don't agree with. We don't necessarily hear what they are really saying.
And the problem with defensiveness is that it gets in the way of the intimate connections we really want. The defensiveness hinders repairing the relationship.
"Defensiveness is the arch enemy of listening. It is the arch enemy of connection and intimacy. It is impossible to give an apology if we can't move out of defensiveness." Harriet Lerner
So what do we do with our defensiveness? The first step is becoming aware. If we can notice that we are just trying to defend our position, we can pause and clarify what we really care about. Eventually, even though my phone was lost and I was angry, I was able to realize I cared more about my relationship with Greg than being "right."
That enabled me to make a sincere apology.
And that apology draws me closer to the relationship I want in my life.
/*?>*/?>