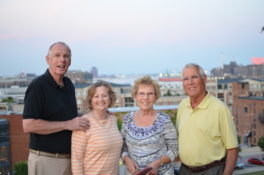 Mother is more than just a noun. It's also a verb:
Mother (verb): 1. bring up (a child) with care and affection; "the art of mothering"
One of the gifts I value most in my life is mothering my own children. Each is a treasure to me. But I haven't mothered alone.
At our church, we regularly talk about our responsibility together to mother (and father) those children that are in our small community. I love that. I love it because it has been true in my in my life and it is true in the lives of those around me.
We don't parent alone. And I've had tremendous help the last 24 years. My kids have had mothers all around them. Mothers mothering them with me.
My own mother and mother-in-law have cared for my kids in many ways throughout their lives. They have given my kids time when I could not. They have given rides and picked up my kids from practices or school. Sometimes they've just been there to listen and talk.
My kids have three aunts who have encouraged and supported them. They have inside jokes with my kids and draw out strengths in them that I may not have seen on my own. They listen and care. One died unexpectedly a few years ago and left a hole in our family, but the memories are strong and still such a blessing even amidst that pain.
My friends have stepped in countless times to protect, nurture, or counsel my kids. They cared for them when I couldn't. They included them in adventures and looked out for them in my absence. They taught them things that I could not have taught them.
There have been teachers, youth leaders, coaches, and mentors who have helped to mother my children in ways that I could not. My children would never be the people they are without so many loving and mothering them.
And part of the gift has being doing the same for my nieces, nephews, friends' kids, and my kid's friends. I've been inspired to mother and been inspired by mothering.
The gift is in the relationships. Thanks to all the mothers who have mothered with me.
Happy Mother's Day!
/*?>*/?>