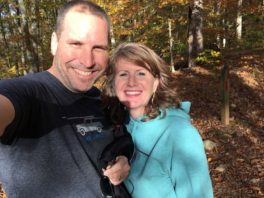 Most Sunday afternoons, I don't think "I should go for a hike." In fact, I would rarely think that on any day. It's not in my normal pattern to go hiking anywhere.
On a typical Sunday afternoon I often think of two things: rest or productivity. My desire for downtime is often at war with my desire to feel productive. So I go back and forth between relaxing and trying to do something on my never ending todo list.
Going for a hike is neither of those things.
But today, Greg mentioned that one of the parks where he rides his bike was particularly beautiful and thought we might enjoy hiking through it. We did, and it was beautiful. The beauty of the leaves and the crunch under our feet were reminders of the glory of autumn.
We hiked about 6 miles.
Along the way we talked about a lot of things. The election, relationships with friends, and even some of our childhood family patterns were topics of conversations.
Nothing profound happened, but I felt more connected with Greg when we finished. He felt the same. We had a couple of hours of just being together while we were out there.
I was reminded again that what I think I want and what I really long for are often not the same thing. Stepping outside of my comfort zone, even in small ways like today, is so useful.
Small steps, outside of my normal pattern, in the direction of my values, leads me closer and closer to the life I want to live.
/*?>*/?>