50, Insecure, and Vulnerable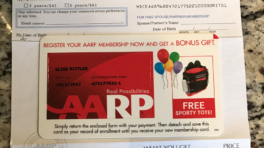 I got my first AARP card in the mail about a month ago.
I threw it in the trash quickly.
Tomorrow I turn 50.
50 fills me with insecurity. I think things like:
I'm getting old (whatever that means)
I don't look young anymore
The fun things in life are behind me
My eyes aren't focusing like they used to when I read
Do I have what it takes to age gracefully?
Will my body start to fall apart?
The list could be really long if I kept going.
I can get all wrapped up in my mind trying to "fight" those things. Or talk myself out of them. Or ignore them.
But what I'm trying to practice is this:
I can acknowledge the challenge of aging without having to fight it, it's ok that it is difficult
I can embrace vulnerability in those insecurities, I don't have to "fix" them
I can be grateful, I know each day is a gift, even the days that bring out insecurity
Tomorrow I'll still feel insecure. But I'll keep moving forward. I'll try to see that as an opportunity to practice being the kind of person I want to be. Insecurity and all.
The truth is as I practice leaning into this I'll be living more of the life I want to live at 50 and beyond.
There is a great invitation for me in that. I don't want to miss that opportunity.
/*?>*/?>