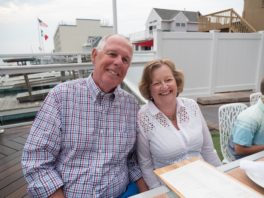 Yesterday my parents celebrated their 50th wedding anniversary. Fifty years is a long time.
Greg and I have been married half that long, and that feels like a long time.
It's one thing to simply tolerate each other for 50 years, but my parents have done far more than tolerate each other. They set a pretty great example.
Here are a few of the ways they've inspired me in my own marriage:
They spend time together. For as long as I can remember, my parents have done life together. They run errands together. They visit friends together. They work on projects together.
They work intentionally at a healthy marriage. Early in my parents' marriage they started gathering with other married couples with the intention of improving their marriages. They learned together about how to communicate better with each other and regularly practiced developing this skill together. Many of those relationships exist to this day.
They show affection to each other. Growing up I saw my parents kiss each other every day. They said, "I love you" all the time. They held hands in the car or when they walked in and out of places.
They enjoy each other. It's not like my parents always had things in common, but over the years they have cultivated mutual interests. And they support what each other enjoys. They love to be at the beach together.
They enjoy entertaining friends. In the last ten years they have started playing pickle ball together. They've worked to find things to enjoy together.
They made their relationship and our family a priority. Both my parents had their own careers and have always been very involved in our community. They have given their time, talent, and treasure at work, in the community, at church. But even though they gave so much, my brother and I, and now our families have always known our family was most important to them. My parents have always been incredibly supportive of whatever my brother and I have done. And now our kids experience the same support.
Thanks mom and dad. You set the bar high and have inspired all of us. We love you.
/*?>*/?>