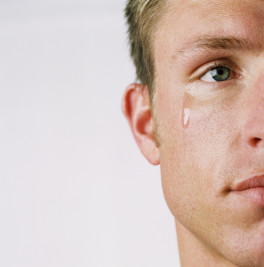 There are a few universals in life that are common to all men and women. Tears are one of those things. Some of us cry easily and often. Others are more stoic and tears are slow to come. But we all cry.
Here are a few thoughts on tears and some quotes from Jay Efran and Mitchelle Greene on the subject.
1. Tears are a way of discharging tension and resetting ourselves.
Physiologically speaking, emotional tears are elicited when a person's system shifts rapidly from sympathetic to parasympathetic activity—from a state of high tension to a period of recalibration and recovery.
Tears are a response to a physiological process happening in our bodies. They are a release of tension and an emotional exhale that manifests itself in our bodies.
2. Tears often start when we sense that we are safe.
Tears are most easily triggered in response to a friendly gesture, a sympathetic voice, a familiar face, or other signs of safety.
This explains why we don't often cry during a distressing circumstance until we are in the presence of a loved one. Efran and Greene point out that this is why when children are lost, they don't generally cry until they are reunited with their mom and dad. Once reunited, their bodies release the tears.
3. Tears themselves are not happy, sad, or angry.
Tears are neither happy nor sad; they're simply manifestations of the shift from arousal to recovery. The labels we attach to them depend entirely on the context in which they occur.
It's easy for us to associate tears with sadness. But it is just as easy to cry over joyful events as it is over sad events. And often we cry over things that are neither happy nor sad; things that cause a significant emotional reaction inside of us.
4. Tears often causes adults to act strangely.
Our evolutionary programming, geared to raising infants, prompts us to launch into emergency action when anyone cries. We feel obliged to help, but with adults, we may not be sure what to do.
When a child cries we naturally jump to soothe and comfort. But when an adult crys we are often confused and unsure of what to do. We want to help. But we don't know how. Ironically, our natural wiring to help children leaves us ill prepared to cope with adults that cry.
5. Tears are about specific thoughts, images, or memories.
Tears are always about something specific: an image, thought, or memory that changes the psychological and neurophysiological equation.
Tears aren't random. Even when we can't identify the reason for our tears, they are a response to something identifiable. Tears that seem "out of the blue" are worth a further look at our part.
6. Tears are a natural, healthy part of being a human being.
Keep in mind that crying is a natural, adaptive process, and the best policy is to let it run its course.
They are not a signal that we are weak. They also aren't a sign that we are unable to handle difficult situations. Tears are a natural response that allows us to resolve tension in our bodies.
Here are a few practical ideas that Efran and Greene give on how to deal with tears:
When we cry, it is helpful to ask ourselves: "What's the thought that helped you cry?" This not only affirms our tears, but may give us more understanding of our feelings.
When we see others cry, it is helpful to remember that this is one of those times when less is more. It is often most helpful to do nothing other than offer some reminder that we are there with them.
/*?>*/?>