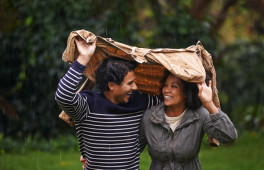 This week I heard a lecture from Dr. Jesse Crosby on Acceptance and Commitment Therapy (ACT). Dr. Crosby is the Administrative Director in the Office of Clinical Assessment and Research at the OCD Institute of McLean Hospital and an expert on ACT.
Dr. Crosby explained that we often engage in "experiential avoidance" in life. In other words, we work hard to avoid certain feelings, sensations, thoughts, or memories. This avoidance often comes at a cost.
He gave an example: he asked us to imagine that we were caught outside in a sudden rain shower. What do you do? You tense up, hunch over, and try to resist the rain. But does that keep you dry? No. In fact, it causes more discomfort.
Our avoidance of internal experiences can be similar; resisting doesn't help, and can cause more discomfort along the way.
Many of our internal experiences in life are more painful than getting wet. But the principal is the same: resisting uncomfortable experiences often just causes more pain, suffering, and tension in addition to the actual experience.
However, if we can accept the experience we can avoid unnecessary additional discomfort.
Acceptance is often the first step to moving forward in a different way. If we can accept the internal experiences that come our way, we can often choose to move toward the life we want to live.
Want to practice? Next time you are caught in the rainstorm try to notice if you are accepting or fighting the experience. What shift would be needed to let yourself allow the experience?
/*?>*/?>