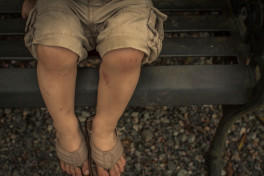 Part of our human experience is feeling pain.
As newborns we feel hunger pain. As toddlers we fall and bang our heads. We get bruises and scrape our knees.
And it isn't just physical pain.
We feel pain when we are picked on by other children. We get embarrassed when we are called on and don't know the answer. We feel left out when other kids are chosen.
From a very young age we learn two things:
There is pain in life.
I want to avoid this pain.
Why wouldn't we want to avoid pain? Pain hurts.
As we get older we complicate the pain. We add judgement to the pain. We add our own internal narrative to the pain.
The problem is we can't really avoid pain for long and still move forward in life. We try but it doesn't work. We try avoiding pain using substances, or withdrawing from relationships, or by filling our lives with things or experiences.
We develop our own strategies for avoiding pain. We spend a lot of energy avoiding pain. The real problem is that avoiding pain most often causes more pain. Avoiding pain keeps us from living the fullest lives available to us.
On the other hand, if we can accept our internal struggles we can position ourselves for growth. Acceptance isn't giving up, resigning, or deciding that things won't change. It also isn't pretending. Acceptance is also not for all situations. If you are experiencing abuse, the answer is not acceptance.
But accepting our internal experience allows us to be honest with ourselves. When we practice acceptance, we will often unlock growth that will surprise us.
As long as we are fighting to avoid our internal pain we will struggle to grow. Acceptance is what enables us to experience unpleasant thoughts, feelings, or sensations because they move us toward something that matters to us.
In the end that will allow us to pursue the life we want to live.
/*?>*/?>