Advent: Light in the World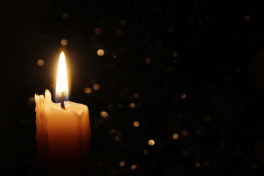 The days are getting shorter. Time seems to be moving quickly. The holiday season is upon us.
Amidst the shortening days and darkness we start lighting candles and displaying lights.
For Christians, we light advent candles, one per Sunday in advent. In anticipation of the coming of Jesus at Christmas.
For Jews, you may light candles on a menorah and celebrate the festival of lights. Commemorating a miracle in the temple when one day's oil burned eight days.
For many, regardless of religion, lights are used to decorate homes and businesses.
This weekend Seth (my youngest), Greg and I went to two holiday celebrations with parades. One was in Ocean City, New Jersey. The other in Cape May, New Jersey. It was cold, but crowded. And lights filled the streets.
Advent, is a time of waiting for the yet to come. A time of reflection. This advent, I'm reflecting on the year that has passed and the year to come with anticipation.
And I'm reflecting on the lights. The lights that connect us to each other. The lights that penetrate and fill the darkness.
The world needs our light.
/*?>*/?>