Advent: The Small Moments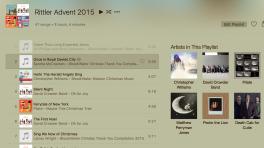 I love the holidays for all the cliche reasons:
being with friends and family

seeing all of the decorations outside at night

having my children come home and be together

going to the movies as a family (we don't often all go to the movies together, but we usually do during the holidays)

giving gifts

receiving gifts

eating great food, and too much of it
I also look forward to relaxing and having some downtime during the holidays.
This Advent season has been hectic in the Rittler house. We've been going hard this fall. There hasn't been much downtime. Our weeks are packed with work, school, travel, sports, drivers ed, and more. Our weekends are equally packed with holiday preparations, get togethers, and kid's activities.
It's been hard to stay grounded during the busyness. But in the midst we have done one thing consistently. Each holiday season we setup a new playlist of holiday music to enjoy as a family. This season, more than most, I've been listening to that playlist every time we get in the car.
It may not seem like much, but it's a small meaningful thing that I can do amidst the hustle and bustle. Sometimes the joy is in the smallest of moments. I'm still looking forward to slowing down and relaxing this holiday season. But in the meantime, I'll continue to look for the small moments to savor.
Here's the playlist for those who are interested. It's one of our best in my opinion. The first song is my favorite.
/*?>*/?>