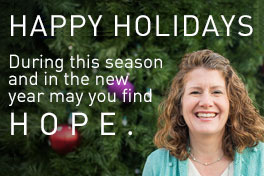 Advent, in the Christian tradition, is the beginning of the liturgical year. It is the start of something new.
Advent is the preparation for the birth of Jesus. Jesus, who would take away the sins of the world and reunite humanity with the Father. This gift was to be free for all who believe without strings or attachments.
Advent is fundamentally about hope.
Regardless of your faith tradition, may this holiday season be filled with hope. May you grasp that there is the possibility of growth and restoration for your soul.
May you find joy in this hope.
Elise
/*?>*/?>