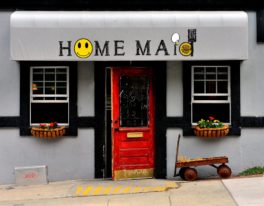 On a random Tuesday night a few weeks ago, Greg and I had dinner with a friend at Atwater's in Belvedere Square. It was in the midst of the heat wave but we were inside enjoying the air conditioning and company of this friend.
As we sat and talked to him I was struck by the kind of questions Greg asked. He seemed genuinely curious about how this friend spent his time, what he cared about and what he was finding challenging in his current situation.
I was most struck that the conversation didn't seem to have an agenda.
Yesterday we had breakfast in Federal Hill at Homemaid with Josh and Seth, two of our sons. On the way home we dropped Josh off at a coffee shop in Fell's Point to meet some friends and then we wandered home with Seth the rest of the way.
Greg never goes directly anywhere on the weekends when he isn't in a hurry. We ended up driving through Federal Hill, Downtown, Fells Point, Patterson Park, East Baltimore, Mt. Vernon, Charles Village, Roland Park, and Towson to get to our house. We wandered for close to an hour.
I might have complained, except the whole way home we were asking Seth, our 14 year old son, questions:
What's up with this kid at school?
Why do think some kids are getting caught up in ___________?
What's with Pokemon Go?
How is this kid getting along with his parents?
During the long tour of Baltimore, Seth opened up and pretty soon we were hearing about all kinds of things that were going on in his world. As a mom, I treasure those moments.
Again, there wasn't much of an agenda.
I have a natural tendency towards an agenda, looking for a way to insert my opinion, and as a parent to "teach" something. If I'm not careful, that will take up the space I have in relationships.
In a world where it feels like everyone has an agenda, there is a lot of benefit to agenda free curiosity.
/*?>*/?>