Arming with Vulnerability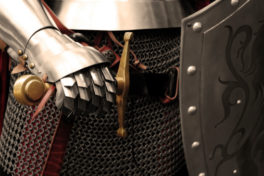 In conflict, most of us put our defenses up pretty quickly.
Our natural instinct is to armor up, react, and protect. Some of us may withdraw, some of us may go on the attack, some of us try to avoid or change the subject. We tend to think conflict is good guy or bad guy, winner or loser.
In reality, most conflicts aren't really like this. Most conflicts are two people that want a relationship, but can't figure out some pieces of it.
And in most conflict, if we lead with vulnerability we achieve a better result than armoring ourselves for war. Vulnerability disarms. Vulnerability creates the condition where two people can each express what they want and move towards each other and what they each want.
Vulnerability isn't without risk. We risk rejection, disapproval, and feeling like a failure.
But leading with vulnerability moves us toward the relationships we want and away from the lose/lose of our natural instincts.
/*?>*/?>