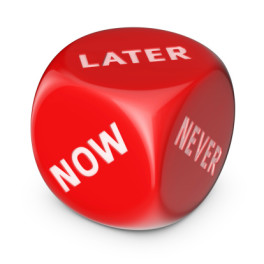 I can procrastinate with the best of them.
My procrastination doesn't get me into any kind of big trouble. When it comes to things that could get me in trouble I tend to get those things done. But when it comes to cleaning out closets, completing school forms, or making a doctor's appointment, I can put things off for a long time.
Procrastination is avoiding something that we don't want to deal with. Completing school forms reminds me that summer doesn't last forever and a more carefree time in our family life will come to an end. Cleaning my closet means making decisions on what to keep and what to throw away. Making a doctor's appointment means that I will have to have blood drawn or potentially hear my doctor remark that it has been a long time since I've been there. There are also self judgements that come telling me I'm a loser for not taking care of some of these things sooner.
There are times I want to avoid the big things in life also, but the fear of the consequences motivates me to get the big things done.
It's not that putting off any of these things is going to ruin my life. For the most part I will eventually do all of them. But there is still a cost to procrastination. There is a little bit of negative drag that goes along with not getting things done. That drag robs me of the present.
Here are a couple of things that tend to help me when I am procrastinating:
Name it. Instead of pretending that I am just too busy or any other rationalization, it helps for me to own it. "I'm procrastinating" is helpful for me to move forward.
Identify what I'm really avoiding. Avoiding the school forms so that I don't have to think about summer ending doesn't help me. It actually leaves me with two things to worry about: the forms AND summer ending. If I get the forms done then I can enjoy what is left of this time I treasure so much.
Break down my task into smaller, concrete, measurable steps. Empty the closet today. Create piles of things I'm keeping and things I'm getting rid of tomorrow. Put the keepers items back in the closet Tuesday. Drop off the things I want to get rid of at Goodwill Friday. That I can do.
Create a consequence or reward for completing the task. After the school forms are complete, I will call my friend and catch up for a few minutes.
Stopping procrastination isn't going to solve the problems we have in life. But it won't add to them either. When we don't procrastinate we find ourselves living more of the life we want to live.
/*?>*/?>