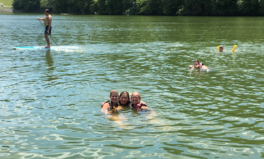 I've spent the last two weekends playing with my family at Smith Mountain Lake and then Deep Creek Lake. Those were sweet times together.
Tomorrow, I'll say goodbye to my college junior, Josh. A few days later, my youngest kids, Riley and Seth, will go back to school. Lots of change this week.
There is something about this time of year that sparks a desire in me to make changes.
But I get overwhelmed by really good, big, changes that I want to make: becoming more organized, eating healthier, moving closer to God, improving a friendship, using my time better. For a long time I would squelch this desire when it came up because it felt impossible.
But it's not. With time, I've been able to see change in myself, and others.
But big, giant sweeping changes, rarely last. Change happens in small steps that compound to produce the results we want.
So if you want to make a big change, the key is starting with a smaller change in the right direction:
Eat one more fruit or vegetable a day.
Cleaning one closet.
Experimenting with one new spiritual practice.
One call to a friend to improve a relationship.
One day of focusing on how I use my time.
These look like baby steps toward the life I want to live. My life won't look all that differently tomorrow. But add up those tiny, hourly or daily changes and they'll lead me closer and closer to the life I want to live.
/*?>*/?>