Becoming Future Self Powered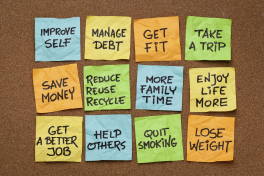 Happy New Year! Time to lose weight, stop smoking, read more, put more money in the bank, get rid of debt, have better sex, follow a new spiritual practice, or simply decide to be a better you.
For many of us, the new year is that time of year just before the time of year when we fail at these things.
Why is it so hard to change?
Dr. Kelly McGonigal, author of The Willpower Instinct: How Self-Control Works, Why It Matters, and What You Can Do to Get More of It, defines willpower as "the ability to do what matters most, even when it's difficult or when some part of you doesn't want to."
McGonigal describes two competing systems in our brain: the immediate self and the future self.
The immediate self wants to be satisfied right here, right now. It does not care about tomorrow, next week, or next month. It cares about now.
The future self cares about what matters most: our values and who we want to be. The future self thinks about the big picture and long term. The future self is the self that wants all those things we make resolutions about.
The key to lasting change is simple: it's allowing our immediate self to be shaped by our future self.
Simple. Not easy. But simple.
The alternative is to allow our future self to be shaped by our immediate self.
But we already know how that turns out.
/*?>*/?>