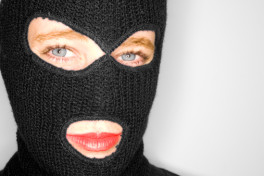 Many of us share this fear: I'm not really the person that people think that I am. And if people see the real me they will reject me.
I have this fear. Most of you have this fear as well.
It's rooted in this one common idea: if people see what goes on inside of me they will realize I am a fraud.
I was talking to a friend who recently experienced a setback (he called it a failure but it was really a setback):
My very first thought when this happened was this: I'm not really the person people think I am and now they are going to know it. I'm going to be found out as a fraud.
We learn from a very young age to try to silence this voice.
We may work relentlessly to be successful. Whatever success is in our own minds, if we become truly great at something, then maybe just maybe we can silence the question that keeps asking if we are good enough.
However, the fear of being found out isn't quieted by more success.
We may keep people at a distance. If no one gets close no one will know how broken we are inside.
However, the fear of being found out isn't quieted by distancing people.
We may deny our shortcomings or anything from our past or present that might hint at some deeper inadequacy within. We may talk about our not measuring up in a generic way, but we don't let anyone see the naked truth. We become spin doctors that manage our story and image.
However, the fear of being found out isn't quieted by our own spin.
Here's what usually happens when we try to manage the fear: we exhaust ourselves and end up feeling isolated and alone.
Here is what the voice doesn't tell us: this fear is part of the human experience. We all feel it. The answer isn't to manage it. The truth is if we don't take risks and allow ourselves to be vulnerable we cannot grow.
Brene Brown describes it this way:
Owning our story can be hard but not nearly as difficult as spending our lives running from it. Embracing our vulnerabilities is risky but not nearly as dangerous as giving up on love and belonging and joy—the experiences that make us the most vulnerable. Only when we are brave enough to explore the darkness will we discover the infinite power of our light.
What we most deeply want from each other is not someone else pretending they don't fear inadequacy. We want to know we are not alone. Part of what we are longing for is for someone else to know those parts of us and for it to be okay.
You are not alone.
/*?>*/?>