Black and White Limitations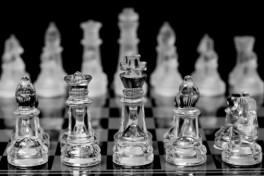 I had dinner with some good friends the other night. During the conversation we started talking about raising children. My friends are struggling through a particular issue that many parents with young children face.
My friends are great parents. They want to do the right thing. And they want what is best for their kids. So they turned to a respected counselor for some input. The counselor made a very direct, somewhat strong statement about the issue: this is what is best for kids. For my friends, this created tension around how they thought about this issue. In situations like this it is easy to make our goal figuring out what is right. Being right helps to alleviate tension.
We want black and white answers. It gives us assurance and puts our minds at ease when we can check the box that says, "we are doing the best thing." But much of the time life isn't that black and white. Much of the time life is more grey.
There are certainly many issues that are black and white. Teaching a child not to run into traffic is a pretty black and white issue. If we don't teach them not to do that they will suffer grave consequences.
On the other hand, most of our life issues aren't that easy. Our lives are complex, multi faceted, and everything we do takes place in the context of everything else we do. And even when things are more clear there are no guarantees we will get the outcome we want.
Checking the box that we are doing the best thing doesn't guarantee that life will turn out perfectly. Life just isn't that simple.
So what's the alternative to looking at things in a black and white way?
Two ideas may be helpful. The first is to accept that the tension around uncertainty is not the end of the world. In fact, in many ways it can lead us to struggle through tough issues to a better place. My friends wrestling with this issue lead them to greater clarity on what was important to them.
The second idea that may be helpful is to consider decisions in light of the values we hold in our lives. In the case of my friends, one value they are striving for is building relational connection with their son. They are attempting to make decisions that align with their values, rather than simply seeking a guaranteed assurance that everything will be OK. That takes courage.
Many of us want to live in black and white. It takes some pressure off if we can just think in those terms. Doing the "right" thing often gives us security and assurance.
But in reality, most of life takes place in the grey. If we can live with the tension of life in the grey and allow ourselves to be guided by values we hold dear we will find ourselves moving toward the life we really want to live.
/*?>*/?>