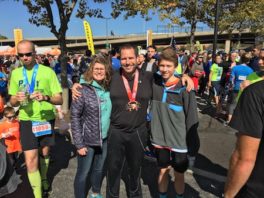 Yesterday, Seth and I headed downtown to cheer for Greg as he completed his sixth Baltimore Marathon. Seth is our youngest and a good cheering companion.
We found our familiar spot just before the finish line. I love standing there because you see the runners exit Camden Yards. It's the point where the runners know how close they are, but can't quite see the finish line.
For a few minutes we stood beside another mother and son who were looking for dad. They were not speaking English, but I imagined they were having the same kind of conversation as Seth and me. When they saw their runner all four of us cheered together.
A few moments later we saw a women drop to the ground as her legs gave out. She tried to stand again only to stumble and fall. Another female runner stopped to help her up and together the two of them moved a little closer to the finish. Just before they were out of sight we saw them fall again. A male runner stopped and got on the other side of the struggling runner and the three of them pressed on together.
I hope she made it.
Seth and I looked for one of Greg's training buddies who we knew was a few minutes in front of Greg at the finish. We had never met him before, but we knew his bib number. When we saw his number we both jumped and yelled to cheer him on.
All the while we were getting text updates on where Greg and other friends were. Our cousin Linda was running her first marathon. Our friend Lisa was running the half. One of Greg's other training buddies, Julia, was running her first marathon.
There is something that shifts inside of me when I see the courage, challenge, heartbreak, pain, and triumph of all of these runners. My heart fills with gratitude.
And it isn't just me. Tens of thousands participate and cheer for these runners. Folks from all walks of life. Some cheering people they know. All cheering those they don't.
The lens I look through in life changes in these moments. I'm inspired, in awe, grateful, and connected to the community around us.
I want more of that in the life I'm living.
/*?>*/?>