Changing The Way We Relate To Ourselves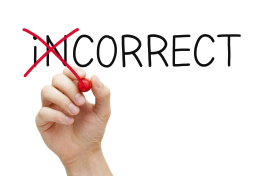 I opened the door at 7:00pm to greet my next client. I almost immediately had a sinking feeling in my stomach. There were two clients waiting for me in the waiting area. I don't know how I did it, but I double booked my time with two different people.
One of my clients, the one that I didn't have on my schedule, graciously rescheduled later.
Later that evening I noticed this conversation in my mind: "How did you screw that up? You need to be more careful when you put appointments in your calendar. If you were better at using your iPhone this wouldn't have happened. Your clients must think you are an idiot. I'm sure they are mad."
Within a few minutes I felt worried and anxious about my mistake. Left unchecked I'm sure that would have bled into other parts of my life as well.
Dr. Daniel Siegel, in his book The Mindful Brain, suggests that mindfulness practices can help us learn a different way to relate to ourselves. We can learn to be more aware about the way our "observing self" communicates with our "experiencing self."
When we are awake and we are not just living on automatic pilot, we make choices about what we do with our attention. Daniel Siegel
Siegel uses the acronym COAL as a guide for developing an approach to mindfulness:
C – curiosity: asking ourselves what does this feel like? what thoughts, feelings, and physical sensations do I notice?
O – openness: to whatever is happening, rather than being closed off or focusing on what we think we should be experiencing
A – acceptance: willingness to experience the present moment, making room for what is happening right now
L – love: a compassionate kind of attitude toward yourself
Because of my own practice with mindfulness, I noticed this negative internal dialogue pretty quickly and decided to experiment with what it might be like to try the COAL approach. I began to let myself be curious about what was happening inside of me. I noticed that I felt tense in my shoulders and belly, and felt embarrassment about making a mistake, along with fear of what others thought of me. This helped me acknowledge my mistake, but without all the judgment. I was able to see this situation as an opportunity to learn and grow, rather than something I had to cover up or avoid facing. This kinder, more understanding way with myself, kept me from adding more pain to the entire situation.
You could try out this approach with almost anything that you do. It could be something you practice while going for a walk, or taking a warm shower, or chopping up vegetables. Our lives provide many opportunities every day to develop mindfulness skills. We don't have to wait until we have made mistakes or have a runaway story in our mind. You can practice anywhere, anytime. You can change the way your brain interacts with you.
You can use the focus of your mind to change your brain, to liberate your potential, and improve your physiological well being, your mental well being, and your relational well being. Daniel Siegel
In what ways does your brain run away? Try practicing the COAL approach next time and see if your mind doesn't lead you to another place.
/*?>*/?>