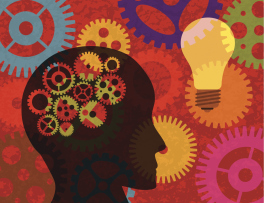 The older I've gotten the more I value creativity. I don't often think of myself as a "creative person." But I am. I think we all are. We've just labeled some people who excel at arts or music as creative people. But creativity allows all of us to solve problems and move forward in life.
Dr. Charles Limb spends his time researching creativity in his lab at John Hopkins University. Limb studied the brain activity of jazz musicians and found that when creativity is being displayed (when they are improvising) that a specific part of the prefrontal cortex is activated. This part is tied to self expression and displaying personality.
That probably wouldn't surprise most people.
What surprised me is that Limb found that in order for the self expression part of the brain to activate another part was suppressed. This part of the brain is responsible for self monitoring and regulates inhibition.
In other words, when we are at our creative best we are allowing ourselves to be free from the inhibitions and fears that keep us from thinking new thoughts and ideas.
We think at least a reasonable hypothesis is to be creative you have to have this weird dissociation in your frontal lobe. One area turns on and a big area shuts off so that you are not inhibited, so that you are willing to make mistakes. So that you are not constantly shutting down all of these new generative impulses. Dr. Charles Limb
Although even Dr. Limb admits that this hypothesis needs much more research, what he found rings true with my experience. When my mind is focused on thoughts about how I am doing and on what others are thinking about me, I have an extremely difficult time thinking creatively. When my mind is caught up in these evaluative thoughts I play it safe and often feel stuck when problem solving or making decisions.
On the other hand, if my mind is less focused on "self-monitoring" and unhooks a bit more from my concern about judging myself, I am often more likely to think creatively. When I let go I can access creativity that allows me to solve problems and live more of the life I want to live.
Are you struggling to move forward? Maybe it's time to practice letting go of some of the self monitoring fears that are keeping you from bringing creativity into your life.
To hear more from Limb check out his TED talk at TEDxMidAtlantic.
/*?>*/?>