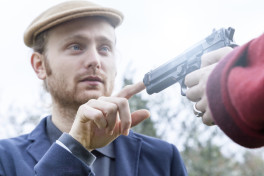 One of the most important decisions we can make in the midst of conflict is to realize that we need to be the one to respond in a healthy way. Whether it is with our spouse, co-worker, or child, the most helpful choice on our part is to own our response in the midst of conflict.
It is helpful if we have made this decision before we get into conflict, but we will need to remind ourselves of our commitment when things heat up. We are in trouble if we rely on the other person's response to determine our way of being in the conflict.
Here are a few simple (not easy) ways to practice healthy conflict:
Slow yourself down. Take a moment to notice what is going on in your body, soul, spirit, and mind before responding. Learn to recognize the sensations you have in your body when you are getting amped up. This grounding step is crucial because it will help us choose our response rather than allowing our emotions to hijack the situation.
Remind yourself what you really care about. It's terribly easy in the midst of an emotionally charged situation to forget about what we really value. Ask yourself: "Do I care about being right more than I care about the other person?" Sometimes that question alone will help us deal with conflict more constructively.
Be honest and vulnerable. The easy route in conflict is to go into protection mode and guard ourselves. It takes courage to be honest and vulnerable. But in reality, most of the time our bringing honesty and vulnerability to the conflict will allow the other parties' walls to come down. When we are both honest and vulnerable in a non threatening way the likelihood of moving closer increases exponentially.
As we practice handling conflict by these principles we will find ourselves connecting to our problem solving skills because the "thinking" part of our brain won't be run over by our impulsive emotions. When we can think clearly about what we want, we are often surprised at how quickly and creatively we solve what may have seemed like a huge disagreement just moments before.
These principles are easy to write about. Hard to implement. But with practice we will find ourselves growing into the people we want to be and seeing our relationships transformed. It won't happen overnight. But it will happen.
/*?>*/?>