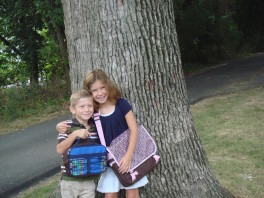 Tomorrow morning everyone in the Rittler house will be up early. Two of the four Rittler kids, Riley and Seth, will do the annual first day of school ritual. After a full summer, it's time to get back to the routine.
A part of me dreads this time of year. I can remember the pit in my stomach feeling as I went off to school when I was a child. Even as an adult, I feel more anxious this time of year.
For many years, I avoided these feelings. I resigned myself that I was just going to have to white knuckle through it every year. I tried to hide from these feelings.
A few years ago I decided I wanted to approach this time of year differently. By avoiding my feelings I wasn't allowing myself to experience each day for what it was.
Since then, I have been practicing acceptance. Can I accept the negative feelings and still stay engaged this time of year?
I haven't found a magic bullet. But I have been able to change my personal back to school experience. Here are a few of the things I've tried:
Allowing others to see my anxiety.
Asking for help and support.
Preparing for school when I need to rather than allowing back to school to take up too much of the summer.
Looking for opportunities to evaluate other things in life I wanted to start.
Paying more attention to celebrating the end of the summer.
Back to school is still not my favorite time of year. I'm learning that the anxious feelings can still be present, but they don't have dominate the space in my head.
What is your triggering event or time of year? Can you accept the feelings that come and look for ways to stay engaged?
/*?>*/?>