Elise the Movie Script Writer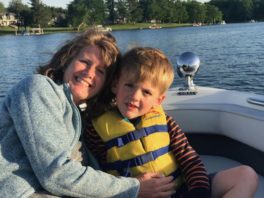 I'm not a traditional creative type. Not artsy, not into crafts, no musical talent.
I like to write, but more in a teaching and reflective way. There is no threat of a short story or novel jumping out of my keyboard.
But I can be creative in my worry. About pretty much anything.
Yesterday, we were at Deep Creek lake getting ready to go out on the boat for a little cruise. As I was running to grab a sweatshirt I noticed my movie script being written:
What if the boat breaks down?
What if we hit something and the boat sinks?
What if a storm comes out of the blue skies?
What if someone is thrown from the boat?
I can do this about anything. I can go from not a thought to a full script in moments. And the longer I indulge the script the more real it will seem. And the scene is real like it's on a screen in my mind. It can consume me in moments.
I realize not everyone experiences worry this way. The things I fear feel like they are happening in that moment. It's like I'm living out this potential future. These worries place me in the middle of the movie and it seems real.
As I am more aware of these thoughts I can become ashamed that I think this way. Or feel like I am defective. Why am I like this and others not?
But I've learned to be more gracious with myself. I still make movies in my mind. But I can observe them now. I can laugh at myself. I can say "here you go with your movie" without all the shame and guilt.
I can walk out of the theater and not stick with the story. Just like being at the movies. I can also validate the fear or worry. I might say a quick prayer or make a note of something I want to do. Sometimes the fear is valid and prompts action.
It's ok that I have the movie and worry about being on the boat. I just don't want it to own my mental real estate. It's just another thought that passes by.
I still get to move toward the life I want to live.
/*?>*/?>