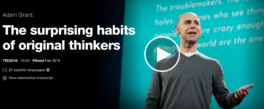 I was inspired this week watching the Ted Talk "The Surprising Habits of Original Thinkers" with Adam Grant.
Grant is a professor at the Wharton School of Business, University of Pennsylvania.
According to Grant there are two kinds of doubt:
Self doubt: that's the "paralyzing, leads you to freeze" doubt.
Idea doubt: that's the "energizing, leads you to test, experiment, and refine" doubt.
The former is crippling. The latter powers "originals," the creatives that bring new ideas to life.
They [originals] are afraid of failing, but what sets them apart from the rest of us is that they are more afraid of failing to try.
What's surprising is that the originals have doubts just like everyone else. They just doubt their ideas more than themselves.
Can you imagine how it would feel to doubt the ideas you were thinking, but not doubt yourself?
That's worth some practice.
/*?>*/?>