Embracing The Quitter In You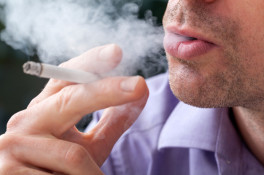 I read recently that 6 out of 10 ex smokers weren't successful on their first attempt to quit.
"This new research shows that most people aren't successful the first time they try to quit smoking. But each time you try, you learn a little more about the quitter in you. You become a little wiser about what to do and not do the next time. With each attempt, the American Lung Association is here to provide expert support and proven resources that have helped more than one million people quit smoking for good." Charles D. Connor, American Lung Association President and CEO
The American Lung Association has used this research to create the "Quitter in You" campaign to encourage those trying to quit.
I've never been a smoker. But I've tried to change other behavior and I know it is hard to quit things that are deeply habituated. Whether it is smoking or some other ingrained habit, we've all struggled with quitting something.
In the midst of the struggle to quit we convince ourselves of a lot of things:
I am a failure.
I will never be able to quit.
I am weak.
I have no willpower.
Most of us don't say, "failure is a normal part of quitting and I should expect to fail some before I succeed."
But that is the truth. In fact, our failure gives us information that helps us to succeed eventually.
The truth is that we will fail before we succeed. We might fail a lot before we succeed. Success comes through failure.
So the only real failure is giving up on quitting, even when you fail.
Can you embrace the quitter in you?
/*?>*/?>