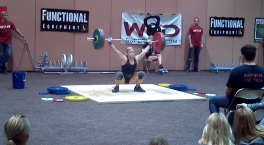 It's interesting to watch how people respond to failure. Not big, catastrophic failure. Just your run of the mill, everyday, failure. Like eating too much when you swore you were going to cut back. Or promising you would be patient with your child then losing your temper. Or trying to live by a budget but continuing to overspend. Or sleeping in when you said you would wake up early to get something done.
For many of us, we fail pretty often by this kind of standard.
A few weeks ago, I was doing a Crossfit workout at the gym. The workout that day was thirty snatches, lifting a heavy weight from the ground to overhead. Here's a quick look at what a snatch is. The snatch is one of the hardest olympic lifts. In each Crossfit workout, you can do the prescribed weight, which is always an incredible challenge, or scale your workout using less weight.
One of our Crossfit friends, Jess, is a strong athlete. Jess can lift much more than I can for every lift that we do. She regularly does the prescribed weight, while I am always scaling the workout.
This workout, I was behind Jess and could watch her during the workout.
For the first number of reps, Jess was able to complete the lift without a problem. It was slow going, but she did them cleanly. But by midway through the set she was faltering. She would drop to her knees after squatting and was unable to get the weight overhead. Or she would fail to get it overhead on the initial burst of power. She would laugh or make comments at first. She would curse occasionally as time went by.
I would have given up. I would have said, "this weight is obviously too much." I would have scaled back the workout.
But Jess continued on. She would knock off two and then fail. Fail two times and then get one. Finally, with the rest of us cheering, Jess finished the workout with the 30th lift. Jess was the only woman to complete the workout with the prescribed weight that morning. I was thrilled for Jess and inspired myself.
Our relationship with failure determines much of the trajectory of our lives. Will we fail and give up? Will we fail and continue on? Will we endure? Will we persevere?
The difference in life isn't whether we will fail. We will. The difference is in what we will do when we fail. Watching Jess in that moment inspired me. The life I want to live will include failure. But I get to determine what I will do with failure in the moment.
Negative results are just what I want. They're just as valuable to me as positive results. I can never find the thing that does the job best until I find the ones that don't. Thomas A. Edison
/*?>*/?>