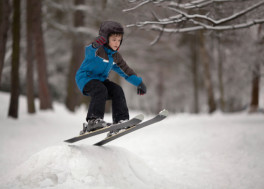 Fear of failure is about as common as any fear we have. We spend so much time trying to avoid even the appearance (and especially the reality) of failure. We will go to great lengths to protect ourselves from failure.
Sometimes we decide the risk isn't worth it. We try hard to fly under the radar so that we won't fail. If we can stay out of sight we can't fail. Invisibility is our strategy.
At other times we deceive others and ourselves. We puff ourselves up to make sure people know how important and successful we are. Often we don't even know we are doing it. But we are still afraid of failing.
The interesting thing about fearing failure is this: we know that we all fail. Many of us also know that the most "successful" people have failed. Many of them multiple times in very big ways. We get it, but we still live in fear much of the time.
But allowing this fear to rule us has a cost. It keeps us from our full lives. Instead we settle and never flourish.
It is scary to take the risk and do something that may not succeed. Sometimes in the face of the risk we experience a surge of anxiety that can send us in the opposite direction. Other times it is more of a nagging voice that talks us out of taking the risk. We decide that we had better wait until we don't feel anxious.
Here's the dirty little "fear of failure" secret: people who are willing to take the risk are anxious too. They just don't let the anxiety stop them.
My husband reminded me of something this morning in a blog post he wrote: it took him 20 years after he decided he wanted to run a marathon to run his first. He kept making attempts to run, but he kept failing. Finally a couple of years ago he finished his first and has done a number since then.
His message could have been this: "You've tried this before a number of times and failed. You should give up." Or it could have been: "You've run half marathons and have been running for a long time. That's good enough." But instead it was: "You need to determine what is getting in the way and find a way to overcome the obstacles because you care about completing this challenge."
People who overcome their fear of failure have decided that they value something more than they fear something.
So the big question: What matters to me more than not failing?
P.S. Do you think this little girl regrets taking this risk? She was really scared: voice shaking, self talking, heavy breathing, mind racing. My favorite moments:
1:15 and the noise she makes when she starts
1:29 and the victory shadow
Other resources:
One of my colleagues at The Anxiety & Stress Disorder Institute (ASDI) shared this with us a few weeks ago. I think it is helpful in thinking through fear of failure:

/*?>*/?>