I'm afraid of public speaking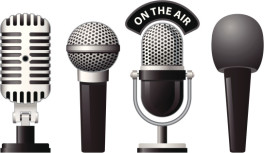 Last weekend I had the opportunity to speak to a group on a retreat about parenting. When I was asked about giving this talk, a big part of me wanted to say no. Public speaking has never been something I've enjoyed doing.
I have often enjoyed sharing what I have learned about parenting or other topics. But doing that as a speaker is challenging. It stirs up anxiety in me. I feel my heart rate increase and I start to sweat just thinking about it. That old nervous feeling comes back. It can even feel painful.
Who needs that?
The problem is that I value sharing things I've learned in life that may help someone else. I'm passing on things that others have given me generously. Being asked to do that in front of a group is something I want to say yes to. Even though my anxiety around speaking wants me to say no, my values want me to say yes.
Saying yes means not just being anxious while giving the talk. It also means being anxious while I prepare. It means dealing with my doubter (that voice in my head that says "who are you to talk about this?"or "what do you think you have to offer?").
At times it means I avoid preparation so that I can avoid the anxiety. More than once I sat down to prepare and gave up because I wanted to avoid the anxiety. The problem is the more I avoid, while there is an immediate relief of the anxiety, the further I get from things I want to do in my life.
Russ Harris, in his book, The Confidence Gap, talks about anxious and negative feelings this way:
Negative thoughts only become problematic if we get all caught up in them, give them all our attention, treat them as the gospel truth, allow them to control us, or get in a fight with them.
Harris is an expert on Acceptance Commitment Therapy (ACT). ACT is a fundamentally different framework than many therapeutic approaches. Here's the cliff notes version:
Accept your feelings and be present to them in the moment
Choose your actions based on your values
Take action to move toward your values
Here's how I describe ACT to clients:
ACT helps us move beyond where we are now and consistently toward those things we value and want in life instead of getting trapped in powerful negative emotions and feelings that keep us away from what we value.
I said yes to the invitation to speak on parenting even though I knew that I would be anxious about the opportunity. I used this opportunity to practice not fighting the anxiety or letting it overcome me. I acknowledged the anxiety and moved forward. I made a decision based on my values: I would rather feel anxious and share what I have learned than not feel anxious and avoid sharing.
The morning of the talk I felt very anxious. Even as I started speaking, I could feel my hands shaking, and my voice quiver. Do I wish I could some how magically make those feelings go away? Absolutely! But fighting them tends to make it all worse.
Instead, I allowed them to be there and kept on sharing what I had prepared. I noticed a few times during the talk that I didn't feel all that anxious and a few times I would feel a little spike in my anxiety. Each time I felt either, I practiced allowing it to be there without trying to change it or judge myself for feeling it.
I haven't "fixed" my anxiety. And most of my clients don't see a complete release of their anxious or negative feelings. But we can change the way we relate to them and move towards the life we want to live. That's the kind of life I want to live. Not the kind of life where the negative feelings keep me from the things I value.
In what ways are your anxious or negative feelings getting in the way of the life you want to live? Are you trying to fight or get rid of those feelings? Can you imagine a life where you can life with those feelings and still move toward what you value?
____________________
Reources:
/*?>*/?>