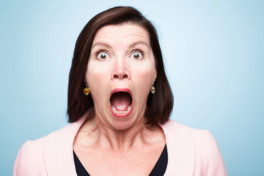 Here's a scene from my life: I'm on my way home after a long day. I'm tired. I'm hungry. My mind is full after a day of work.
I walk in the door of my home.
The house is a mess. There's no dinner plan. The kids need help with homework. There's laundry or other chores to be done. I trip on something left on the floor.
I lose it. It's not a pretty picture. I go from "normally nice mom and wife" to lashing out at those around me.
It doesn't happen often, and it happens less than it used to. But it happens.
I have flipped my lid. I feel swept away by my emotions. I feel like I am out of control of how I am responding.
According to Dan Siegel, author of Brainstorm, the reason I feel that way is because I have actually "flipped my lid" in my brain. I've allowed my limbic system to disconnect from my cortex and run the show.
What? Here's a better explanation than I could give you in writing:
When I flip my lid, I am harmful and destructive, both to myself and others. I become disconnected from my balanced, mature, and healthy response.
The good news is that as we become more aware of this process we can change. Simply being tuned in to what is happening and deliberately noticing that we are beginning to disconnect, can enable us to make choices to help us get reconnected and ground ourselves.
When we are "flipping our lid", we can change our response and move toward the person we want to be. That gives me hope, because I don't think the stress, hunger, or tiredness will ever go away completely. My kids will still make messes.
But I can control how I react. I can reattach to the balanced and healthy way that I want to respond even when life isn't ideal.
/*?>*/?>