Flying, Anxiety, and Values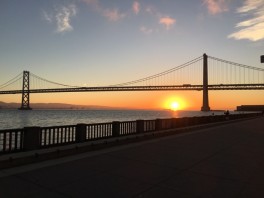 I get anxious when I fly. I know it is safe to fly. I've read about how safe air travel is. I know I'm more at risk from driving to work than flying.
And really, it's not the flying part that makes me anxious. It's the way my body feels that I don't like. My palms sweat, my heart beats double time, my stomach knots up, my breathing feels more difficult.
My body doesn't seem to get what my head knows in terms of safety.
This past week I was in San Francisco for a week with my husband, Greg. So I was able to spend some time living with my anxiety.
There are a few very practical things that help when I'm anxious:
Not overreacting to my body. I can acknowledge the feelings of anxiety without letting them take over. Anxious feelings are just that: anxious feelings. They don't mean that I am weak, flawed, or broken. I am just anxious.
Embracing my anxiety. I don't like feeling anxious. But part of living a meaningful life is moving toward things that cause me to feel anxious. I have the resources (and so do you) to live with the anxious feelings that come along.
Determining what I value. I could easily allow my anxiety to stop me from doing a lot of things. But there are things that I value more than not feeling anxious. In this case, I experienced a new place, an adventure to a new city, and spending rare time away for just Greg and me. It requires courage for me to move toward things I value even while experiencing anxiety.
I'm fairly certain that I will always feel anxious when I fly. But I don't want it to get in the way of the life I want to live.
/*?>*/?>