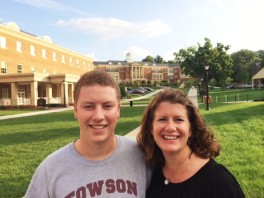 Today I left my second child, Josh, at his college dorm and drove away.
During the last couple of weeks we've prepared to go. We went to Target. We took care of last minute doctor and dentist appointments. We packed and repacked things.
I've watched Josh say goodbye to his close group of high school friends. They have had such great relationships. They were intentional about spending time together and celebrating the last of their summer together. They encouraged each other before they left one by one.
On August 21, 2011, we left our oldest son at his dorm. In many ways, I have been preparing myself for this goodbye since then. I remember how heart wrenching that goodbye was. Three years later it was heart wrenching again to leave today.
So many thoughts and feelings show up when saying goodbye. Expected sadness about missing him in our house day in and day out. Gratitude for the gift he is in our lives. Pride for the man he is becoming. Josh's absence will leave a hole in our family at home.
There are also thoughts about my own aging process and the passage of time. These kids were little and in my arms just yesterday it seems. My mind is filled with the memories of 18 years together.
Driving down to Virginia, part of me wished I could wave a magic wand and have the goodbye over. The process feels like ripping off a giant band aid very slowly. Sometimes I just want it over quickly so I can avoid facing the difficult thoughts and feelings.
It feels vulnerable to let my family (much less strangers) see my tears well up and reveal my emotions. Looking out his dorm room window yesterday, I saw another mom break down in tears in front of the dorm. My heart reached out to her.
The intensity of this time will settle down and we will find our new normal. Life will be different. Josh will have struggles and challenges away as well as so many opportunities to grow.
I am glad I didn't wave the magic wand.
Being present was difficult and painful. But in the midst of the difficulty and pain came so many good things. We've had important conversations. We've said meaningful things to each other. We have laughed a lot. We've cried together.
Being present was a gift in our relationship this weekend. Our relationship will change. This weekend sets the stage for that change.
Without goodbyes and endings we might avoid some pain. But we would also miss so many good things. We would miss so many opportunities for growth.
I'll remember today like I remember August 21, 2011. The pain, the tears, the pride, the joy, the hurt, the fear, the hope, and the goodbye.
Godspeed Josh.
/*?>*/?>