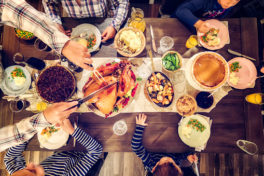 Thanksgiving.
I love thanksgiving.
The practice of being grateful for my life is so helpful.
This week I saw one of my kids speak in front of a room full of people. I was filled with gratitude. We had a spectacularly, warm fall November weekend. It was easy to be joyful enjoying that. I see a client overcoming a challenge that we discuss. I'm proud of them and feel good about my work.
Those are the easy times. Other times I'm quick to grumble and complain.
We've been remodeling the one full bath in our house. It's easy to complain about having to shower elsewhere. When it turns windy and cold it quickly becomes hard to be thankful. Even when I'm hungry, a completely fixable problem, it's easy for me to become grouchy.
It's nice when gratitude just wells up and is easy. But it doesn't always work that way. And the practice of being grateful regardless of circumstances can be incredibly helpful for our growth.
So whether easy or hard, this week I'm going to try to practice being thankful for this life I get to live.
Happy Thanksgiving!
/*?>*/?>