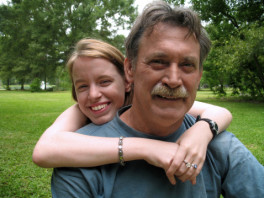 One of the fundamental challenges we have as parents is staying connected to our kids as they get older. I've noticed that parents of teenagers tend to respond to challenging situations in one of two ways:
1. We can react by trying to control more and keep them from making bad choices by our own force of will.
2. We can avoid facing the difficult issues and act like things are fine.
Both responses come out of a place of fear. These responses are similar to other "fight or flight" reactions: we either try to attack or we try to get away.
When our kids come to us with a challenge or we notice that they are in a difficult place our own sense of emotional equilibrium can get rocked. I have vivid memories when one of my kids started middle school. He was thrown into an entirely new set of challenges that I had not anticipated. He had been sheltered during elementary school and was suddenly observing behaviors that made him uncomfortable. They made me uncomfortable also.
As he began to disclose what he was encountering I remember feeling panic as I listened and began to piece together what his school world was like during that time. I wanted to shut it all down, pull him out of the situation, or make new rules that would ensure that he would be insulated from it all.
A part of me also wanted to withdraw and avoid the conversations. I was tempted to communicate to him that some things just shouldn't be talked about.
But neither of those responses would help either of us learn to deal with life in a healthy way.
The key for me was learning to be aware of my own fear and anxiety in a way that I could contain it and still be present to my child in the moment. I needed to see that I could handle awkward conversations and still provide space for my child to process what he was experiencing.
My fear, anxiety, and panic was just that: it was mine to deal with while my son was facing his own emotions.
When I am aware of my own internal response I am more able to be present to the others in my life. I want to provide space for my kids to bring anything to me without fear of having to ask "how is mom going to react?" I'm sure they still ask that question at times but one of my goals is to minimize that fear getting in the way of our connecting.
I still get rattled at times watching my kids struggle with various parts of life. I love them and don't want them to feel the pain that life often brings. I still want to protect them.
But the greater principle for me is keeping the connection. I can't help them avoid all pain. I can help them have a relationship with me that will allow them to learn to navigate life. And in the end that moves me more toward the life I want to live and the relationship that I want to have with my children.
/*?>*/?>