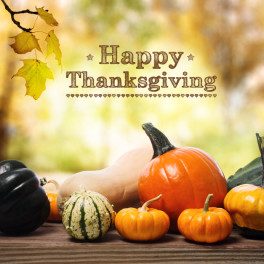 "We can only be said to be alive in those moments when our hearts are conscious of our treasures." – Thornton Wilder
I love holidays. I especially love Thanksgiving. It's the holiday I most associate with being with those I love.
And, of course, there is the "thanks" part of it.
For those willing to practice gratitude there are at least three benefits described by reputable journals. In other words, there is science proving the benefits of gratitude:
people that practice gratitude stay with their partners longer
people that practice gratitude tend toward behavior that benefits others
people that practice gratitude have a stronger sense of well being
There isn't much of a downside to gratitude.
Reflect on your present blessings, on which every man has many, not on your past misfortunes, of which all men have some. – Charles Dickens
Here's one of the best parts of gratitude: it is entirely your choice to be grateful. Nothing more required.
Have a great Thanksgiving week, and for those that choose to be grateful, enjoy the benefits.
/*?>*/?>