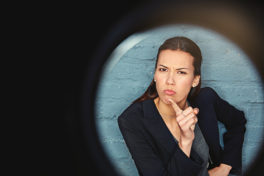 Susan David, author of Emotional Agility, talks about motivation and the difference between the "wagging finger" and the "willing heart." David suggests that we recognize the difference between "have to" goals and "want to" goals.
Have to goals are placed on us by others or our own inner critic. These goals are often motivated by things we don't want to feel. They are often shame based.
Here are some have to goals:
I have to lose weight, I hate feeling fat.
I have to be successful, I can't feel like a failure.
I have to be dependable, I can't say no to that person.
Have to goals actually increase temptations because you feel deprived.
Have to goals are typically not as achievable as want to goals.
Want to goals, on the other hand, are things we do because we value them and take responsibility for a different future.
Here are some want to goals:
I want to listen to my kids even when I don't feel like it
I want to clean the house. I enjoy having a clean environment.
I want to do this paperwork because it actually helps me do my job better.
Want to goals decrease temptation because we aren't deprived, we are making value based decisions. We care about want to goals, so our motivation is increased.
Want to goals are more sustainable than have to goals.
Dr. David says it like this:
If life is a series of small moments, each of which can be adjusted ever so slightly, and all of which , in combination, can add up to significant change, imagine how much ground you could gain by employing this simple tweak and finding the "want to " hidden in the "have to."
And if you don't know what you want? That's an invitation to take time to clarify what you really value in life.
/*?>*/?>