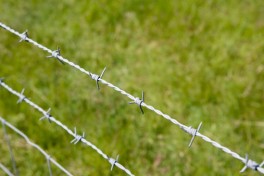 In 1987, I was an education major at James Madison University. In one of my classes, Psychology of the Pre-Adolescent/Adolescent Child, I remember reading about a study that shapes me even to this day.
The study observed children on a playground. Researchers watched changes in the children's behavior when a fence surrounding the playground was removed. I expected that when the fence was removed the children would venture further and further out from the former boundary enjoying their new found freedom.
That's not what happened though. In fact the exact opposite happened.
Instead of running freely around the play yard or spreading away from each other, they moved in closer to each other and stayed away from the former boundary. In addition, the children began to appear anxious and confused.
The granting of more freedom by removing the fence caused the children to feel and act with more restraint and more fear.
The image in my mind of this schoolyard full of insecure, anxious children shaped my role as a teacher and then as a parent. I saw the importance of setting appropriate boundaries even though it was often unpopular. Kids are happier and healthier when they have clear boundaries. Even if they don't always like them.
As adults it is easy to think that we don't have to worry about boundaries. After all we don't have schoolyards to worry about. Our parents and teachers aren't looking out for us anymore. We are all grown up.
But we get into trouble and cause unnecessary pain in our lives when we ignore boundary issues. Most often this plays out in two ways:
1. We take responsibility for things in life that aren't ours to own.
Or
2. We ignore responsibilities in our lives that we really need to own.
The first example can cause anxiety and frustration when someone else doesn't do what we think they should do or when things don't go the way we want them to. We try to run others lives or "look out" for them in ways that aren't good for us or for them. We mean well but we can cause damage to relationships that we don't intend to.
The second example can cause pain when we eventually feel the consequences of not taking the appropriate level of responsibility. This can be seemingly harmless (like neglecting to take the garbage out so we have trash piling up around our house) or can be life altering (like failing to invest in our marriage relationship so our spouse feels distant and disconnected).
In either case the solution is the hard work of determining and then establishing appropriate boundaries. This isn't easy work, but when we spend time making sure we have boundaries in our lives we can begin to experience peace in areas that used to be stressful. We can often enjoy relationships more because of the boundaries instead of the frustration that comes from the lack of boundaries.
What areas of life do you need to explore a boundary issue? Where are you taking responsibility for things that you shouldn't? Where do you need to step up and engage in a relationship that you are currently checked out of?
/*?>*/?>