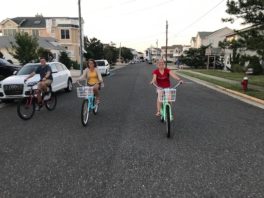 Yesterday we came home from an extended vacation in Stone Harbor, New Jersey. I've been going to Stone Harbor for vacation for 28 years in a row.
I notice each year, as I get older, that one of my markers of time is this vacation every year. I compare this year to last year. I think about 15 years ago and what it was like.
I'm reminded of times on the beach with little kids. I can get sad that they are growing up, even though I enjoy each one as an adult. I watch my nieces and nephew grow up. I don't see them as much as I'd like, so I treasure that time. My brother and I reminisce about times when we were kids.
I think of the past.
We ride bikes everywhere while we are in Stone Harbor. One morning, while we were doing a loop around the island, Greg asked the kids and me this question:
A year from now, what two or three things do you want to be different in your life?
It was a great question. I was able to hear about my kids hopes and dreams. I was able to express some of my own. It caused me to consider change.
I thought of the future.
And it reminded me to mark time. Both the past and the future. To take the time to reflect on what has been and what could be. To value the past and the future.
And to hope.
/*?>*/?>