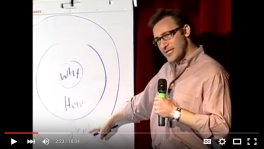 I was in a funk thanksgiving week. It wasn't one thing that was bothering me. Everything seemed to be bothering me.
I realized in the middle of this experience that some old patterns had emerged. I was in a pattern of asking why questions.
Why am I thinking like this?
Why do I do this?
Why can't I get past this?
Why aren't I more positive?
Why can be helpful. Simon Sinek has brought a new focus on why in this TED talk. Understanding our why can help us understand our motives.
But often, why is a mask for self criticism and judgment. "Why are you like this?" or "why do you always do this?" are ways we condemn ourselves. Shame doesn't fuel positive change.
When we are trying to change, how can be more helpful than why.
How do I get triggered to think this way?
How can I help myself when I am feeling stuck?
How can I move toward the life I want to live?
How can I seek out help?
How is practical and useful. How helps us avoid criticism and judgment.
If we can avoid criticism and judgment we can move beyond where we are and take steps toward the person we want to become.
/*?>*/?>