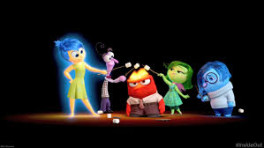 One of our typical vacation experiences involves the rainy day movie theatre trip. With our family spread from married to middle school, it's rare that everyone is in one place for a trip to the movies. So when we had a rainy day on vacation we made a day of it.
This year, the rainy day movie was Inside Out about an 11 year old girl's experience moving from Minnesota to San Francisco. What was so interesting to me was that much of the movie took place "under the hood" as you watch Riley deal with her emotions: Joy, Fear, Disgust, Anger, and Sadness.
I loved so much about the movie.
Here are the some of the highlights that I appreciated:
The movie encourages us to see and value our emotions. At the beginning Joy is getting all the attention, but as the movie progresses the value of each emotion comes to light.
Inside Out encouraged mindfulness. It showed that judging our emotions or trying to control them isn't helpful and keeps us from connecting with others.
I loved the fact that the movie helped portray each emotion as part of us, but never all of who we are.
I was so impressed with how thoughtfully and carefully Pixar presented our interior lives. If you haven't seen it check it out.
For those interested, here's another article that I appreciated about it.
/*?>*/?>