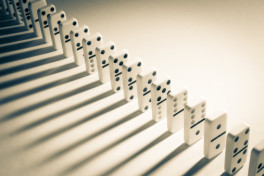 "Perfectionism is a self destructive and addictive belief system that fuels this primary thought: If I look perfect, and do everything perfectly, I can avoid or minimize the painful feelings of shame, judgment, and blame." Brené Brown The Gifts of Imperfection: Let Go of Who You Think You're Supposed to Be and Embrace Who You Are
Perfectionism is a way to avoid risk. It keeps us in a place where we only engage in what we know we can do as perfectly as possible.
Perfectionism means never taking a chance at doing something where we might look stupid or even average. Perfectionism keeps us feeling safe and in control like nothing can hurt us. Perfectionism keeps holding out the promise that when we finally get it right we will be secure.
Deep down inside we know that we can never be perfect. That doesn't stop us from trying to get close. We strive to get close enough to protect us from rejection or from feeling lousy about ourselves.
But we never get close enough. It is always out of our reach and we never end up feeling like we are good enough. Then perfectionism takes our shortcomings and makes us feel worse.
What is the cost of pursuing perfectionism instead of embracing our imperfection?
We miss finding something we enjoy that makes us feel alive.
We don't develop deep connection with someone else.
We don't receive help or encouragement in some area where we feel discouraged because no one knows those parts.
We wait around until we have life figured out so we miss honestly engaging others in our journey.
Will you continue to pursue the perfect or let the gifts of imperfection bless you in ways you can't imagine?
/*?>*/?>