Letting The Whole Family Grow Up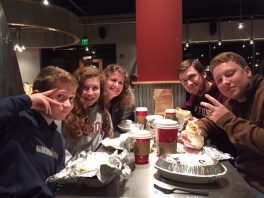 There's nothing like a holiday weekend with my four kids to remind me that they are each unique. They have plenty of similarities. There are traits that they all share. They also each have characteristics that are little glimpses of Greg or me.
But they are each distinctly, different individuals.
Each has special ways they encourage and love me. Each has their own interests and passions. They have their own strengths and their own weaknesses.
They are also unique because they are in different stages of life. My oldest is about to graduate from college. The youngest just began middle school.
Each one also brings up my own internal struggles in different ways. My own fears and insecurities are awakened as I relate to each one. I see ways I've failed them. Ways I wish I had done things differently. Concerns about current circumstances they are in.
These struggles can cloud my vision as a parent. And unchecked, most often my own fears and insecurities will run over each child's individual differences. Under stress, it's easier to treat them the same, without regard to their differences. Parenting can become about quieting my own concerns, rather than caring for my children as individuals. If I'm not careful, I lose a voice in their lives.
But when I honor each child as an individual I receive an invitation to grow myself up. And I give them the same opportunity. Forcing them into my mold may make me feel better, but doesn't help either of us mature. They need the opportunity as individuals to determine how they want to live life in the stage that they are in. I need the opportunity to learn to adjust the way I parent them as individuals.
When I am maturing as an individual and they are maturing as individuals, we can both move toward the life we want to live.
/*?>*/?>