Live Life Like a Teenager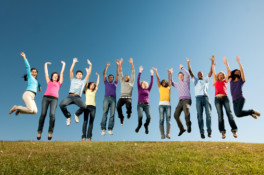 In his new book, Brainstorm, Daniel Siegel explains that there are four common characteristics of adolescents that are a direct result of changes in the brain during the teen years:
NOVELTY SEEKING: looking for new opportunities and experiences that enable them to more fully experience life.
SOCIAL ENGAGEMENT: seeking support and meaning in relationships and connections with peers.
EMOTIONAL SPARK: paying attention and making room for our emotional experiences, allowing them to add a sense of meaning to life.
CREATIVE EXPLORATION: moving from a concrete, fact based way of thinking to being open to new ideas, different thinking, and problem solving.
Understanding these characteristics, that come from an actual change in the brain, explains a lot about teenagers, doesn't it?
While I'm intrigued by the implications for teenagers. I am even more struck by what this means for adults. Siegel continues:
"…what adolescents have going for them that is both a challenge and gift, is actually what adults need in order to maintain vitality in their lives….My proposal to you is that the four features of adolescence are exactly what we need to not only live a vital life as teens, but also to keep our brains growing throughout our lives."
For most of us, we don't spend time trying to act more like a teenager. It can feel foolish to think like an adolescent. We don't perceive we have permission to think like a teenager.
Of course, as we grow older there are ways that we need to mature. But in what ways is your "mature thinking" getting in the way of vital growth that needs to happen in your life?
In 2014, can you allow yourself to seek novelty, social engagement, emotional spark, and creative exploration? If you can, you may find yourself moving more toward the life you want to live.
/*?>*/?>