Living Above The Line: Blame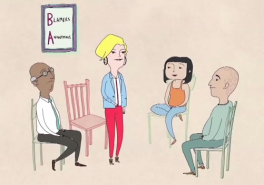 Living above the line takes courage.
One of the easiest ways to fall below the line is by blaming others. Blame enables us to live as victims rather than take responsibility for ourselves.
Blame is a fundamental defense for all of us.
Here's what we know from the research: blame is simply the discharging of discomfort and pain. It has an inverse relationship with accountability. Accountability by definition is a vulnerable process. It means me calling you and saying, 'hey my feelings were really hurt about this' and talking, not blaming. Blaming is simply a way that we discharge anger. People who blame a lot seldom have the tenacity and grit to actually hold people accountable because we expend all of our energy raging for fifteen seconds and figuring out whose fault something is. And blaming is very corrosive in relationships and it's one of the reasons we miss our opportunities for empathy. Brene Brown (see the full video below)
Blame is the enemy of growth.
But if we keep using blame as a defense we can keep expecting the life we are living.
The path to the life we want to live lies beneath all the blame we want to place on others.
/*?>*/?>