Living Above The Line: Rightness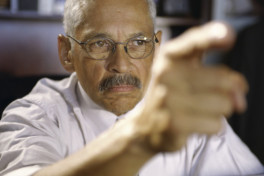 We fall below the line every time we have to be right.
The drive to be right is often powerful. It can lead us to act in ways that are hurtful to our relationships. We inflict this pain because disagreement can feel threatening.
Harriet Lerner, author of The Dance of Anger, suggests: "Closeness does not mean sameness."
But in the heat of the moment it doesn't feel that way. In the heat of the moment it can feel like our relationship is at stake if our spouse, friend, or child disagrees with us. We can even "demand" that the person think and feel the way we do.
Fundamentally as humans, we have the right to think and feel the way we do about things. And many of the things that affect our thoughts have nothing to do with rightness. Our gender, life experience, ethnicity, and age are just a few of many influences that contribute to our perspective.
In fact, it is often our differences that attract us to others in the first place. Our varied perspectives enrich our lives and our relationships.
Below the line we need everyone to agree with us. Above the line, we make room for many perspectives that contribute to a full life.
The next time you sense yourself trying to convince someone you are right ask yourself these questions:
What do I gain by being right?
Am I feeling threatened if this person disagrees with me?
What perspectives does this person have that I can't see?
We might find that needing to be right isn't nearly as important as we thought it was. And we may find that NOT needing to be right may lead us right to the life we want to live.
/*?>*/?>