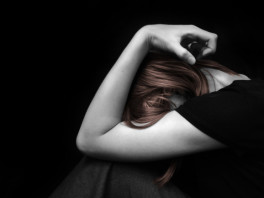 A year ago yesterday, my sister-in-law died. No warning, no notice, no chance to say goodbye.
For 22 years we shared life and a family. Over those years we developed a deep connection. Losing her has left a significant void in my life. A hole that hasn't been filled.
As the anniversary of her death drew near I reflected on loss and grief.
There is no grief without loss. Whether it is a loved one, a job, a friendship, or anything else, loss creates the condition to grieve.
In his book, Helping Grieving People: When Tears Are Not Enough, J. Shepp Jeffries says:
At its most primitive level. the human organism acts to reconnect when separated from another upon whom it depends for survival. When this reconnection is not possible, the reaction is grief….The human grief response contains within it the basic drive to restore the attachment to the lost object.
In other words:
we are wired to connect with each other

if a connection is broken we will try to reconnect
if we can't reconnect we feel deep pain and we will grieve
There is no way around it. Reality is obvious: when we lose someone we have a connection with, we can't help but suffer the pain of grief.
This is hard for those of us who are "fixers." We want to lessen the pain. Sometimes we will try to talk the pain away. But the pain is still there. Other times we want to "do something" to fix it. But the pain is still there. We may try to hide the pain, but it will still be there.
The pain of grief arrives at the most unexpected times. Out of nowhere, I've found myself overwhelmed with sadness a number of times the past 366 days. One moment I'm feeling fine. The next I have tears running down my face.
One thing I know: the pain of grief is the pathway to continuing to grow. Avoiding it only slows our growth. Embracing it allows us to move on.
I miss my sister in law deeply. The pain of grief is a frequent reminder of the lost connection we had. 366 days later I still want that connection. So I grieve. I feel the pain.
But even in the pain, I can celebrate that connection we had, the memories we made, and the time we spent together. I never wanted to feel this pain. But I wouldn't trade the pain for the connection we had. It's worth every bit of the grief I feel now.
Have you experienced grief in your life recently? How do you react to the pain that comes with the loss you have felt? What would it look like to accept the pain of grief and continue to move forward?
/*?>*/?>