Marathons and Pain Tolerance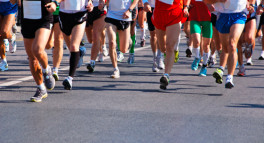 My husband, Greg, is an endurance athlete. This hasn't always been the case. A few years ago he was overweight and out of shape. In the last couple of years he's worked hard to make significant changes in his life.
He  has run marathons, competed in 100 mile mountain bike races, and completed an ironman. I put many of these things in the "you have lost your mind" category. He actually enjoys these races.
He describes learning to complete these events this way:
You have no idea what you can do if you decide to keep going through pain. There are moments in every race where you are drained: physically, emotionally, spiritually, mentally. You are done. The first time you feel this it is awful. It's very tempting to stop and give up in that moment.

The first time I felt that way in a marathon I wanted to stop.

But in reality if you keep going you learn that you can survive the awful feelings, the exhaustion, and the pain. In fact, if you go through the dark moments they will often go away.
Often our growth follows a similar pattern. We have to learn to tolerate pain in order to grow.
Brene Brown talks about the role of vulnerability in this way:
Vulnerability is the center of difficult emotion. But it is also the birthplace of every positive emotion that we need in our lives: love, belonging, joy, empathy.
We work hard to avoid feeling really difficult and painful emotions. We try to get away from feelings like grief, disappointment, regret, sadness, anger, guilt. These painful emotions can scare us.
We have seen many people, including ourselves, react destructively in the name of these feelings. Few of us have had positive role models showing how to experience dark feelings in healthy ways. Often, we work very hard to avoid these feelings at almost any cost.
We develop ways of protecting ourselves from our feelings. We numb ourselves with substances. We develop excessively busy lives. We try to achieve our way out of feeling the way we do. We buy things compulsively. We act out sexually or in other unhealthy ways.
It looks different in each of us but we often find ways to stuff that pain deep inside of us. If successful, we almost forget that any of it is there.
The problem is that even if we can avoid the "bad feelings" what is left is not all that great. The absence of negative feelings does not equal positive feelings. It just doesn't work that way.
What we are left with is a void. Emptiness.
But there is hope for those willing to grow. If we can be vulnerable and learn to tolerate the painful feelings we open ourselves up to growth. Like marathon runners the pain will pass and we can even thrive.
Often, we find the life we really want on the other side of the pain. The joy of completing a marathon comes through pain. Very few things in life that are worth experiencing are pain free.
Can you be vulnerable today and open yourself up to a different way of dealing with your grief, disappointment, regret, sadness, anger, guilt? What happens if you realize there is growth on the other side of your pain? Can you practice embracing whatever emotions show up for you today, good or bad?
/*?>*/?>