Marathons, Funerals, and Life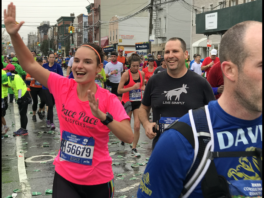 The last few weeks I've been a spectator in some significant life events.
My husband, Greg, ran the Baltimore marathon. Then a few weeks later he ran the New York marathon with our friend, Katie, who has had a significant loss in her life. They ran together in honor of her husband who died unexpectedly in April.
Then this past week, I attended a funeral. One of my high school friend's father died a few days after his 85th birthday.
I've been surprised at how the experiences have impacted me in similar ways.
At both experiences people let their guard down and show up emotionally. At the marathons random strangers cheer for runners they don't know and will never see again. They call them by name at times (based on names on shirts). They make eye contact and thank you for cheering.
At the funeral, we heard the heartfelt love of grandfather, father, and friend. Hearts open and tears are shed.
At both experiences the things that matter most in life rise above other things. At the marathon, no one cares how much money you make or what your life accomplishments are. It's each athlete pushing themselves to finish a considerable feat.
At the funeral, my friend's father's career and accomplishments were mentioned, and they were considerable. But those things paled in comparison to the conversations around his faith and his deep love of family.
At both experiences there was a mixture of pain and joy. In New York, we watched the marathon at miles 5, 13, 18, and 22. Then we saw Greg and Katie at the finish. At mile 5 all of the runners were excited and smiling, the enthusiasm was contagious. By mile 22 faces were in pain and you could see the resolve it took to keep running for nearly all of the athletes. At the finish, even though in pain, the runners faces were filled with smiles.
At the funeral, there was pain and joy in equal measure. There were many tears, but then laughter the next moment.
Both of these experiences encouraged me. I want to show up emotionally. I want to remember what's important in life. And I want to live through the pain and the joy. They go together.
All of these lead me to the life I want to live.
/*?>*/?>