Marriage: The People Growing Machine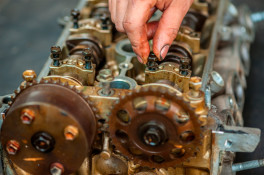 Last weekend I was in Alexandria, Virginia for clinical training with Dr. David Schnarch. The topic was Intimacy & Desire and I shared the weekend with a group of therapists from around the country. The appeal of the topic is obvious: every day I see people who want deep connections with those around them.
I want that myself. It's wired in each of us. We long for intimacy.
I took a lot away from the weekend. One idea that made me think was this:
"Marriage is a people growing machine."
Schnarch expanded this idea:
"You and your partner impact each other, day in and day out, shaping each other's personal development through the problems you develop and resolve (or don't). This is co-evolution… Co-evolution occurs when you and your partner interact…You and your partner shape your own and each other's reality and personality through your interactions."
It is in long term committed relationships that this "co-evolution" happens. Two things that struck me when I thought about this more:
Evolution is a slow process.
Evolution is not "easy"
And what is really interesting to me:
The "symptoms" of this evolution are often interpreted as signs that something is wrong. We think we married the wrong person when there is conflict, or we are bad at communication, or we need to learn better "conflict resolution" techniques.
Oftentimes the answer is really this: these symptoms are normal. They are part of the "evolutionary" process that can grow both parties in the relationship as we develop. These symptoms are really opportunities for growth not signs of weakness.
So the real question is: what do I need to do as an individual that will help my partner and I grow in our relationship?
/*?>*/?>