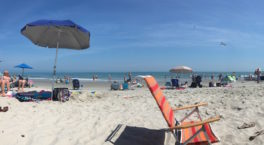 I spent two weeks this summer in Stone Harbor, New Jersey, one of my most favorite places in the world. And I spent most of that time with many of my favorite people in the world.
I had a great time. Laughing, reconnecting with my family, riding my bike, reading on the beach, eating Britton's apple fritters, Mallon's sticky buns, or Springer's ice cream, walking around town. I love summer moments in Stone Harbor.
Yet even in my happy place, I get annoyed, discouraged, anxious. The emotions I have in everyday life show up even in my favorite place.
I'm still me on vacation.
There are patterns of thought that are what help to form our personality or identity. These patterns determine a lot of how we respond to life. I take these things with me wherever I go, including Stone Harbor.
There is a classic study on happiness that was done in 1978. The study was about lottery winners and paraplegic accident victims. There is a lot to learn from the study (and you can read more about it here), but one of the striking things was that happiness levels of the mundane things of life (talking to a friend, watching TV, eating, etc.) was higher in the accident victims than the lottery winners.
Winning the lottery didn't make people nearly as happy as we would think. And being paraplegic didn't make people nearly as unhappy as we would think.
Our circumstances just don't determine as much of our happiness as we think.
Even when I am in Stone Harbor, I make small choices about how I respond to situations. Those small choices move me toward or away from the life I want to live. Even in my happy place with the people I love.
Our happiness is far more in our control than we sometimes think.
/*?>*/?>